Jerry Bender Memorial Player of the Month
---
We are extremely honoured to have been chosen by the Jerry Bender Memorial Fund to facilitate the Kaizen Player of the Month Program this season. This program serves to recognize players for their team spirit, perseverance, and passion in life and sport rather than their stats.
Recipients will be selected using a "ballot process" by their teammates and coaches and nominees should be a player who most exemplifies the following qualities / characteristics:
Demonstrates Sportsmanship
Perseverent
Resilient
Self-disciplined / Dedicated
Optimistic / Positive
Motivated
Coachable
Kind
Supportive Team Player
Hard Worker
The program will be available to all 6 of our Kaizen teams with each team's specific month assigned throughout the season.
About the Jerry Bender Memorial Fund
The Jerry Bender Memorial Fund was established in 2015 after Jerry sadly lost his battle with brain cancer. In life, Jerry was a passionate supporter of his children's athletic pursuits, in addition to youth community and elite sporting programs in Calgary and its surrounding area. Jerry coached community soccer and lacrosse, minor hockey and minor/Little League baseball, in addition to his numerous hours as parent volunteer and "chief cheerleader" within our own Kaizen organization. As a parent and a coach, Jerry focused on nurturing his players' love of the game, in addition to developing their self-confidence and life skills both on and off the field. In receiving this award, it is his family's hope that the recipients will continue to be encouraged to exhibit the qualities and characteristics for which they are being recognized.
The memorial fund is administered by the Bender family who have been heavily involved with the Kaizen Organization for 9 years. Alissa is a Kaizen Alumni who continues to give back to our organization as a valued coach and mentor for our players. Kim has dedicated her free time over the past number of years to support the success of our organization and currently serves on the Kaizen Board as our Treasurer.
Player of the Month
June 2022
Congratulations to Calgary Kaizen Softball athlete Makayla Robertson, winner of the Jerry Bender Memorial Fund Player of the Month for JUNE 2022.
Makayla, a U13 Black player is being recognized for her team spirit, perseverance, and passion in life and sport.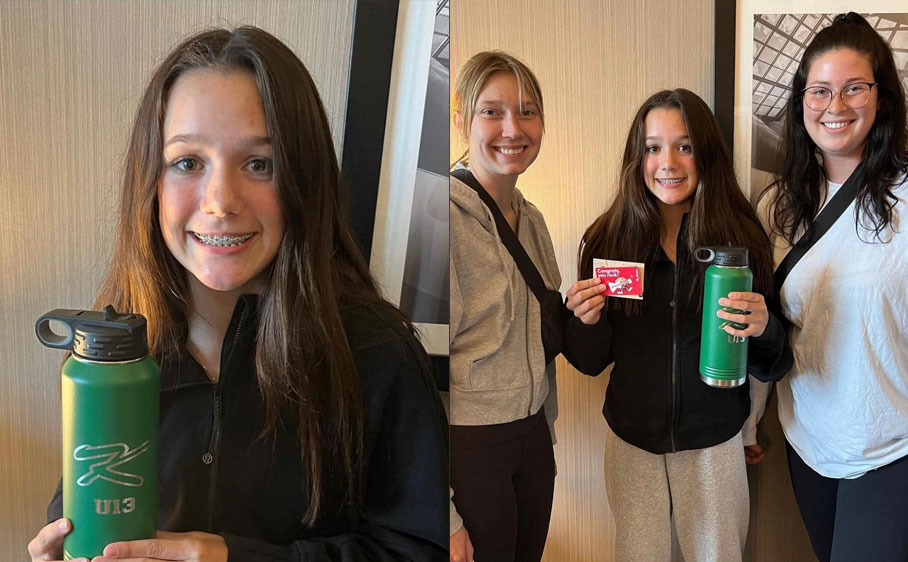 May 2022
Our family would like to congratulate Kaizen Softball athlete, Jenna F, winner of the U17 Jerry Bender Memorial Player of the Month award!
The award was presented by Coach Dan and Lynn S, a close Bender-Finan Family friend.
Jenna, a U17 Black player is being recognized by her coaches and fellow players for her team spirit, perseverance, and passion for life and sport.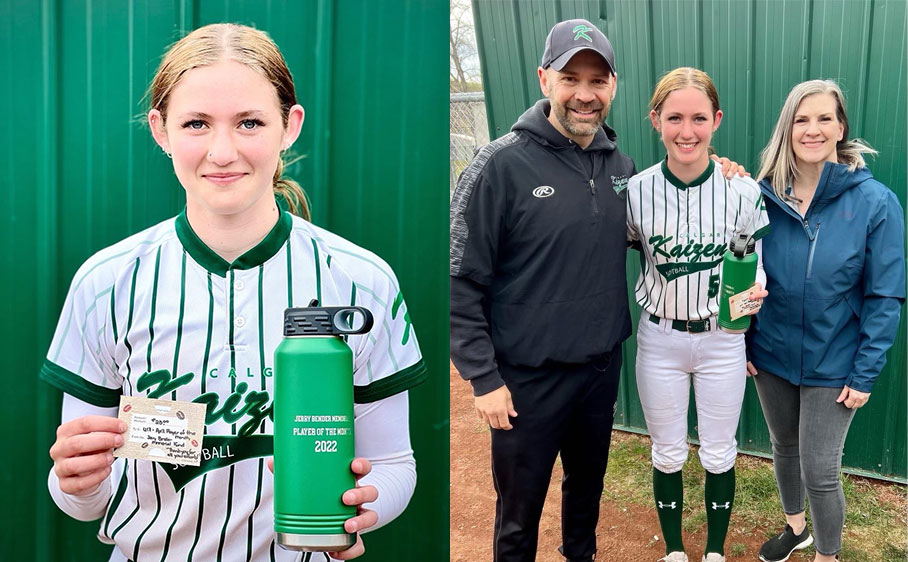 April 2019
Sadie Kahl - U14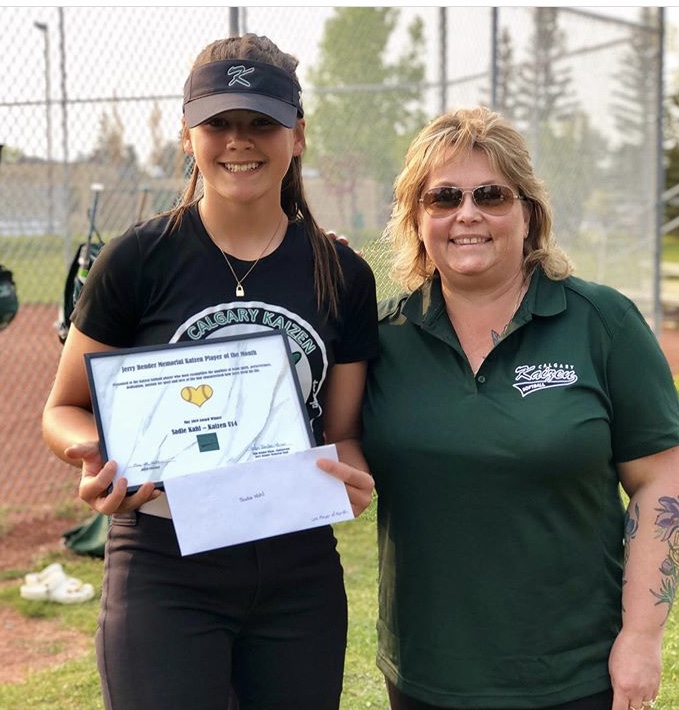 Miranda Deck - U14 Futures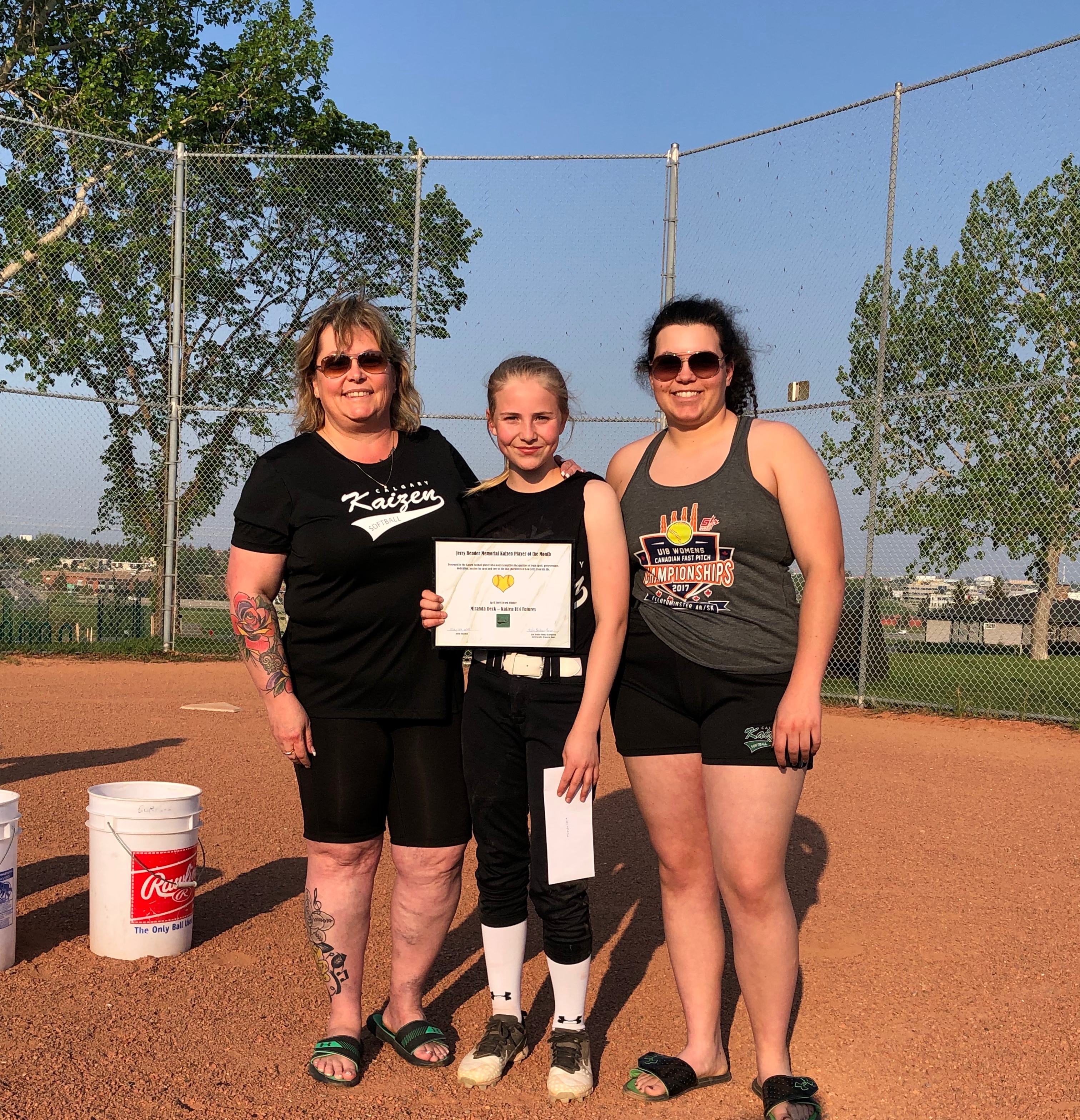 Player of the Month - May
Sophie "Chester" Duncan - U12 Futures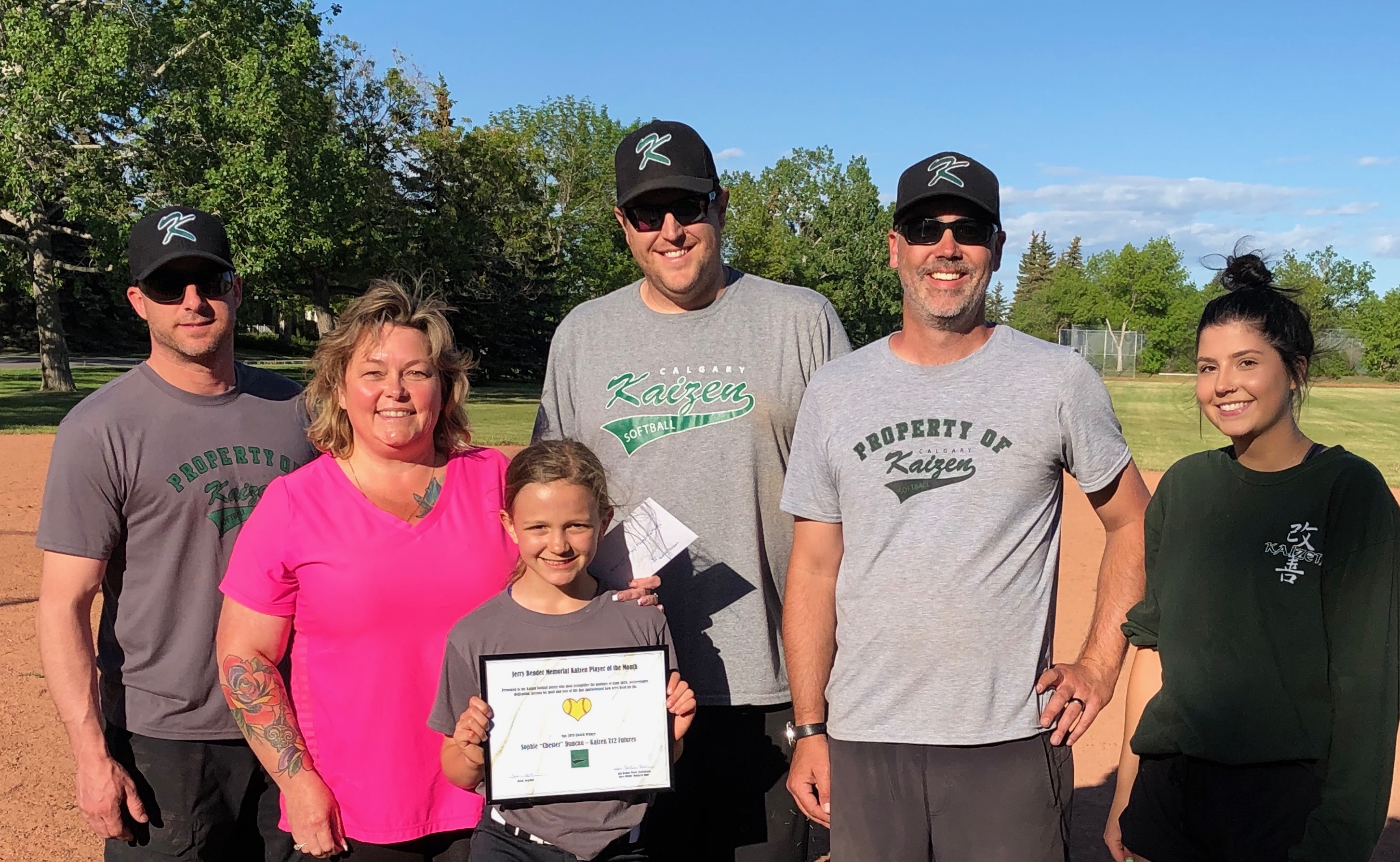 Claire Machnee - U12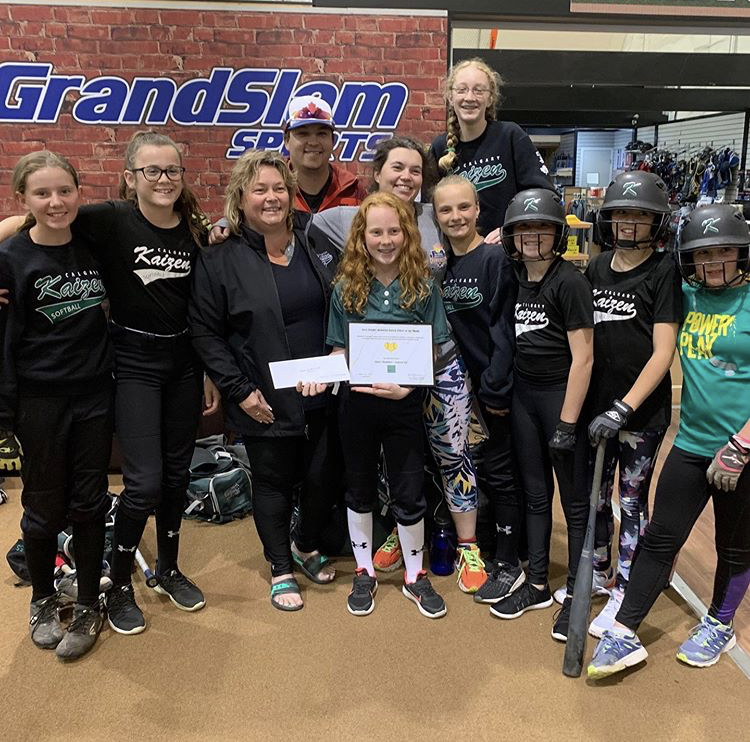 Player of the Month - June
Rylie Penrod - U16 Futures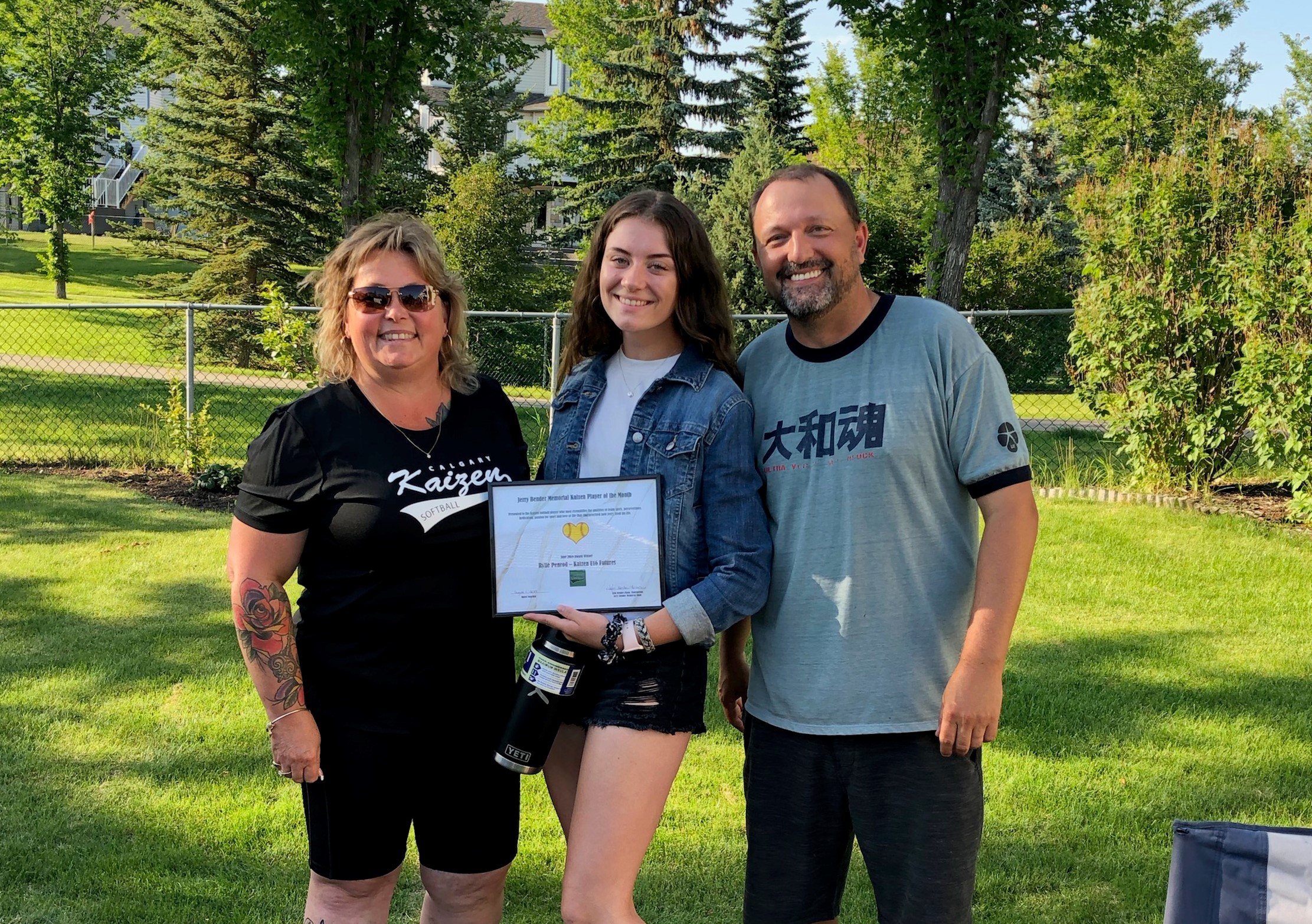 Gabriela Coderre - U16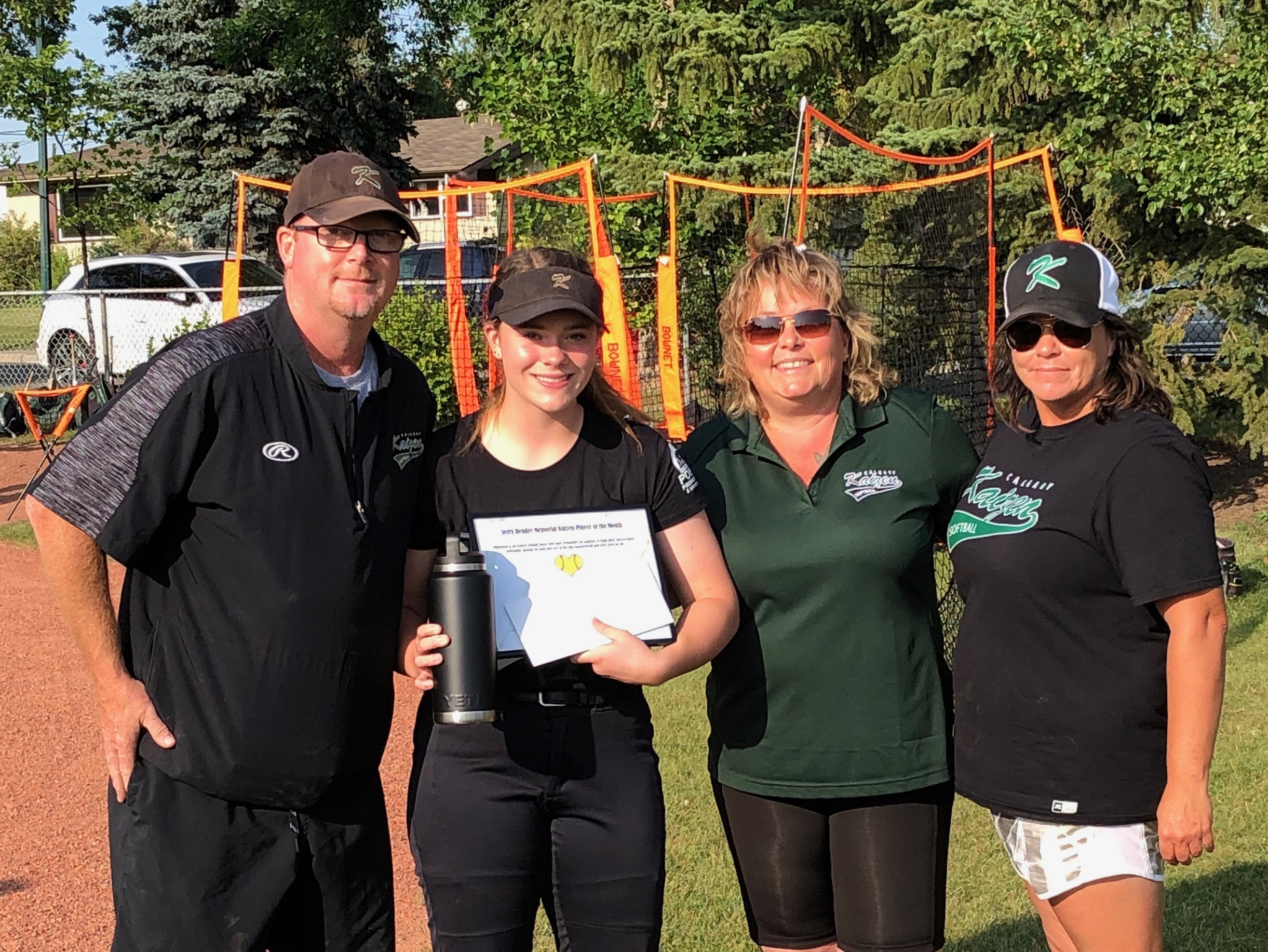 Player of the Month - July
Isabella McIntyre - U19